Bryce Fullwood and Middy's locked in for 2024
Share
Bryce Fullwood will continue at the wheel of the Middy's Electrical Camaro for Brad Jones Racing in the 2024 Supercars Championship.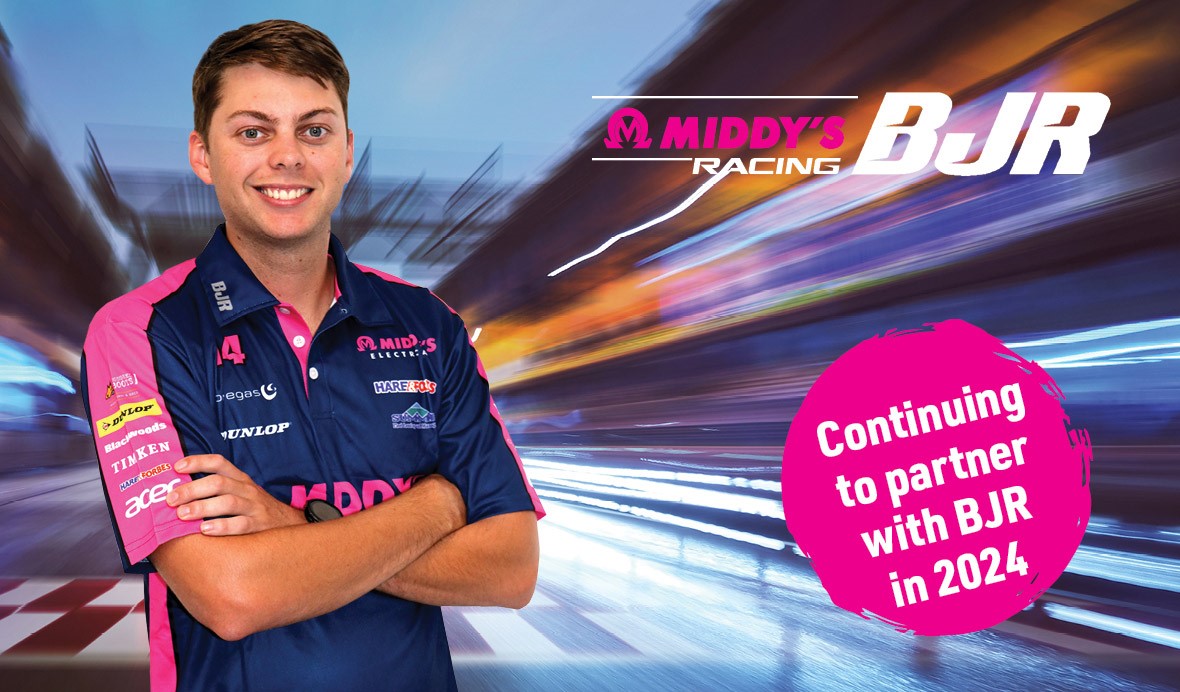 BJR and Middy's Electrical are proud to announce their continued partnership into 2024.
Fullwood is currently sitting 9th in the Drivers' Championship, his strongest season in his four years in Supercars and has penned a two-year extension with Brad Jones Racing.
Young-gun Bryce Fullwood will continue to sport the familiar Middy's pink, of Australia's largest family-owned and independent electrical wholesaler, on his No.14 Chevrolet Camaro throughout the next Supercars season. The decision to extend the partnership with Bryce Fullwood stems from the shared values and dedication to excellence that both Middy's Electrical and the BJR team embody.
Family values, hard work, and a commitment to continuous improvement have been at the heart of both organisations, making this partnership a natural fit. Middy's first came to Brad Jones Racing beside the young gun in 2022 and have become an integral part of the BJR family since.
This season has seen the Middy's Electrical Camaro electrify on track, with Fullwood delivering some sensational performances in the new Gen3 machinery.
Fullwood's 2023 campaign has aided in keeping BJR in third in the Teams' Championship with just a single round to go.
The Darwin-born driver awed at this year's Bathurst 1000, with a resolute fight back on track.
In the final laps of the Great Race Fullwood clawed back a multi-second gap to the car ahead before overtaking them on the final lap for seventh.
The Middy's-supported driver alongside co-driver Dean Fiore made up 14 positions over the course of the 1000km race, even with the crew being hit with a controversial pit lane penalty earlier on and having to fight into contention.
Middy's Electrical has demonstrated their enduring commitment in their role within Fullwood's journey in Supercars, which commenced during his early karting career and has spanned 12 years.
Their support continued as Fullwood, now 24-years-old, made the transition to Brad Jones Racing in 2022.
The Middy's Camaro and Fullwood will be on track for the final round of the year at the Adelaide 500 (November 23-26).
Hear what Bryce Fullwood has to say about teaming up again with Middy's and BJR:
"It's awesome to be back with BJR for next year. So far 2023 has been a great showing of what we are capable of. We have a really good, solid crew on our car and I have a lot of faith in what they're able to achieve and we have a great base from this year to build from.

It's even better to continue to have Middy's Electrical with us for 2024, they've been with me and my family for as long as I can remember, and I couldn't be more excited to have them with us for next year. I'm so grateful for the support from everyone at Middy's - they really are just one big family and it's great to be a part of it. I can't thank Nicholas and Anton Middendorp and the Middendorp family enough for everything they've done for me and for the team."
- Bryce Fullwood
"Bryce has performed exceptionally this year. Keeping him in the BJR fold was important to us, we all work so well together, and he's shown throughout this year what is achievable. There have been a lot of new challenges thrown at Bryce this year and he's handled them incredibly well. I'm proud to see the development and growth of Bryce as a driver and he's a valuable asset for us.

Middy's Electrical and BJR have many, many similarities in the way we run our businesses and our core values of family, loyalty and trust. It is an honour to be able to work beside them on-and-off track to achieve our goals. 2023 has been a challenging year in many respects but it has also been incredibly rewarding - to see our entire team pull together four brand new cars and be where we are now in the Championship has been very satisfying. It's a testament to our team that Middy's are continuing their support for another year. Nicholas and Anton have been excellent partners over the last two years, I cannot thank them enough for their support of our team and their faith in us."
- Brad Jones (Owner, Brad Jones Racing)
"On behalf of Co-Director my cousin Anton Middendorp, and the entire Middy's team, we are thrilled to continue our commitment to Bryce Fullwood and our partnership with Brad Jones Racing as the naming rights sponsor for the 2024 Supercar Championship. Having been a steadfast supporter of Bryce since his early racing days, we take immense pride in our enduring 12-year relationship.

Middy's is dedicated to maintaining this strong bond with Bryce. We are looking forward to collaborating once more with Brad Jones and the team at Brad Jones Racing, an organisation that shares our core values as a family-owned and operated business. The 2024 Supercar series holds great promise, and we can't wait to be a part of it."
- Nicholas Middendorp (Middy's Director)