Introducing the New middys.com.au
Share
More power at your fingertips with the new Middy's website.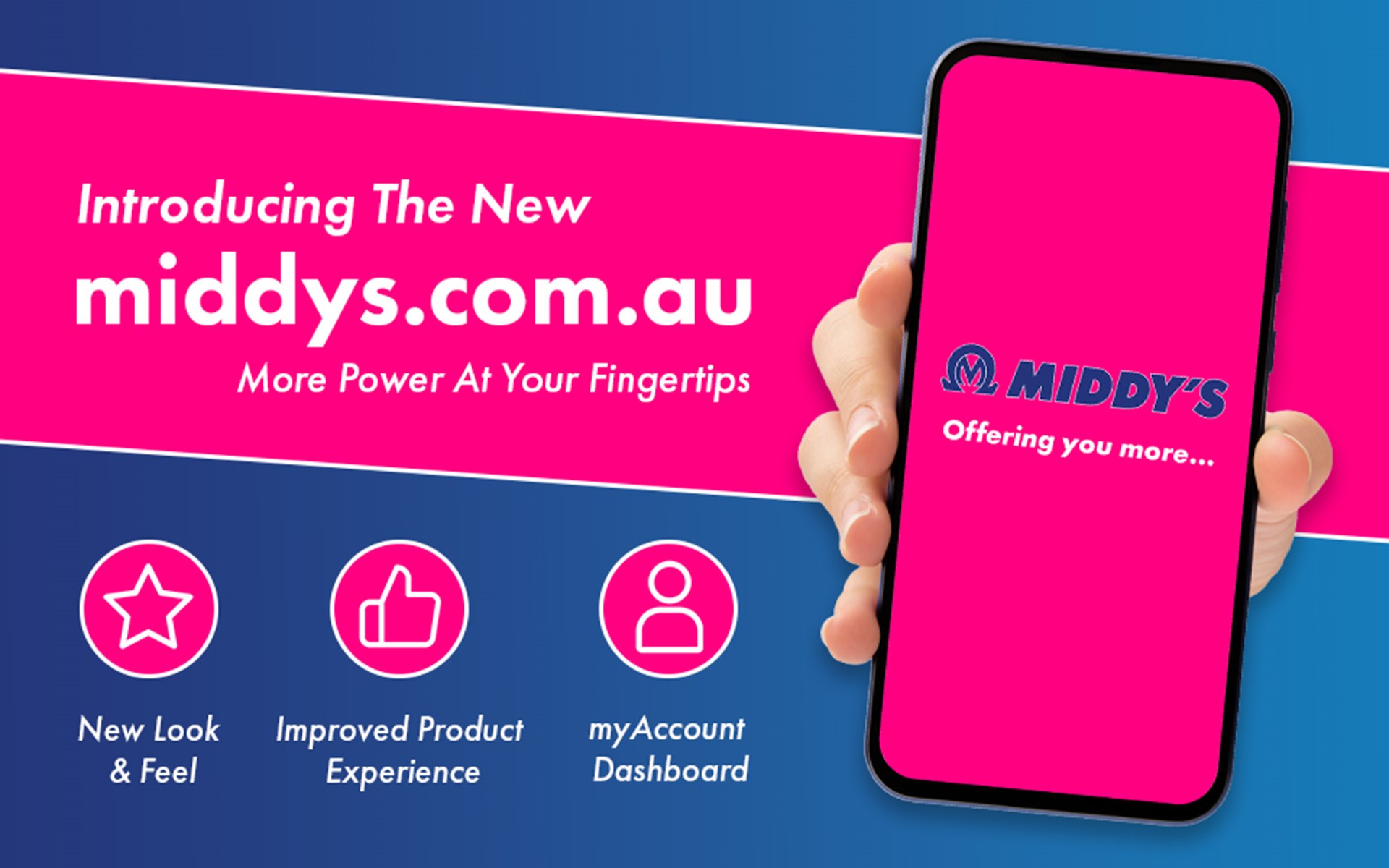 Middy's is thrilled to unveil the all-new middys.com.au, marking a significant leap forward in our ongoing commitment to empower and serve our valued customers.

Our Digital Revolution for Unmatched Accessibility
We have dedicated significant time and effort to design and development, along with consultation with Middy's branches and customers Australia-wide. The outcome is a completely revamped website and roadmap for its ongoing development.

Always Accessible, Always Relevant
The new middys.com.au is set to deliver up-to-date product and account information, providing a streamlined ordering process, all accessible 24/7.

Introducing myAccount
Say goodbye to 'myBRANCH' and welcome the integrated account management dashboard, myAccount. Designed with user-friendliness in mind, it puts you in charge of your Middy's account with round-the-clock accessibility.

Key Benefits
Here are some of the key benefits that you can expect to see from the initial release:
One-Stop Destination: All our products, services, and branch information in one, easy to navigate environment.
Up-to-Date Product Information: A continuously growing digital product catalogue with more accurate product information and an inventory management system.
Effortless Product Search: Streamlined searches for a seamless experience.
myAccount Dashboard: Empowering you to manage your Middy's account online.
Mobile-Optimised Design: A fully mobile-optimised website for smooth navigation on any device.
The Journey Never Ends
Middy's unwavering commitment to great customer service involves ongoing engagement with branch staff and customers for future developments. Expect more exciting features in the pipeline as we strive to deliver industry best customer experience.

Getting Started
For answers to frequently asked questions, explore our website FAQs. If you need additional support, don't hesitate to contact us directly.

Stay Ahead of Industry Developments
Subscribe to our newsletter below to receive regular updates on the latest industry developments, exclusive offers, and insider insights.